Donate
Thank you for supporting the Valley News. Your support is crucial and allows us connect, engage, inform and give voice to our Upper Valley neighbors.
Donations made to the Valley News are not tax deductible.
You can make a donation by credit card by clicking one of the amounts below:
To pay by check and/or donate a different amount, please mail a check payable to the Valley News to the attention of Dan McClory, PO Box 877, White River Jct., VT 05001-0877.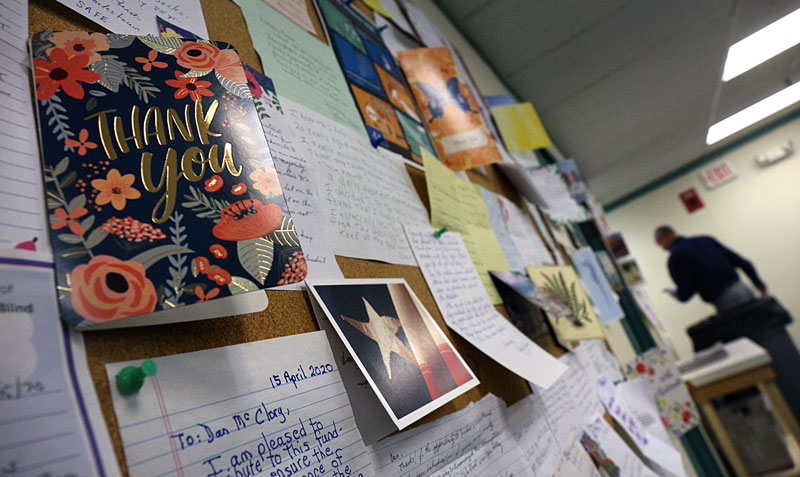 A bulletin board of thank you cards in the
Valley News office in West Lebanon.
Our Newsroom's Story
We are your Upper Valley neighbors. We live in your communities and we are trained to bring you accurate, trustworthy, reported local news. We are accountable to you, our readers.
Our mission of producing dependable journalism has remained true over nearly 70 years, and it has carried us through crises before, from the Lebanon fire of 1964 to Tropical Storm Irene in 2011 — but nothing quite like the economic disaster caused by this pandemic, which has already taken its toll on our newsroom.
Last year, the newsroom came together to define our mission further: to connect, engage, inform and give voice to our Upper Valley neighbors. That work neither starts nor stops with the newsroom, and we stand alongside our colleagues in advertising, circulation, customer service, the business office, the press and delivery in this duty to you. We believe this work is critical during this unprecedented emergency.
If you believe in that mission and are in a position to support it, we hope you will consider a donation today.
The Valley News, based in West Lebanon, is one of five daily newspapers and several other publications in New Hampshire and Massachusetts owned by Newspapers of New England, a family-owned company with ownership based in the Upper Valley and other coverage areas. Donations raised by the Valley News COVID-19 Support Fund supports only the Valley News.
EDITORIAL INDEPENDENCE: Valley News editors, reporters and photographers operate independently of advertisers, donors and other funders, and maintain editorial control over all content.